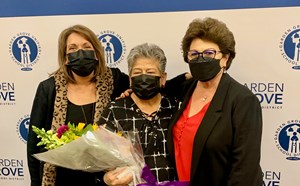 Three of our Russell colleagues were recognized for their years of service in the Garden Grove Unified School District. Our community liaison, Elisa González (15 years), our Mild/Moderate program teacher, Mrs. Mainville (25 years) and our TK/Kindergarten Dual Immersion teacher, Mrs. Krenzien (45 years).
Principal's Message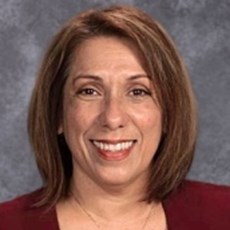 Welcome to Russell Elementary School!
Our School
Russell Elementary Language Academy offers a Dual Language Immersion Program in Spanish and English. Students begin the Biliteracy Pathway program in transitional kindergarten or kindergarten and move up a grade level each year within the program. Students will learn to speak, listen, read, and write in both languages as part of their instructional day by state credentialed teachers who have been trained to teach in English and Spanish. After school Spanish language classes will also be offered to other grade levels.
Russell is one of a few elementary schools to offer the AVID College Readiness program which equips students with essential skills, builds a growth mindset, and prepares them for success in high school, college, and future career.
Russell promotes a college-bound mindset and provides sixth grade students and their parents with an annual college tour of UC Irvine.
In 2018, Russell was adopted by the Angels Major League Baseball Team and an Angels player will visit Russell to present all students with school supplies, backpacks, and baseball game tickets.
Russell is the first elementary school in GGUSD to launch a Latinos Unidos Club to empower and equip students with academic support and leadership skills. Students visit a college campus and attend an annual leadership conference with intermediate and high school students.
Choose Russell!
Small class sizes with supportive, caring teachers who help students reach high academic standards
Every student has one-to-one access to innovative technology through Chromebooks and iPads, as part of daily instruction
Positive, safe school environment ensures the campus is a bully-free zone with support offered through ASPIRE social-emotional counseling
Engaging choir and instrumental programs to develop students' musical talents
Structured athletic activities during recess include soccer led by a trained coach with an opportunity to join a soccer clinic coached by college soccer players
Field trips for all students and enrichment clubs after school in computer coding, art, golf, dance, and leadership skills
Free after-school tutoring and extended learning to help all students succeed
Outdoor Science Camp opportunity for 6th grade students to apply core standards in the outdoors
Boys & Girls Club supports homework and provides athletic and enrichment activities after school at no cost
Free or low-cost healthy breakfast and lunch
Powerful parent education classes and fun school-wide events for families