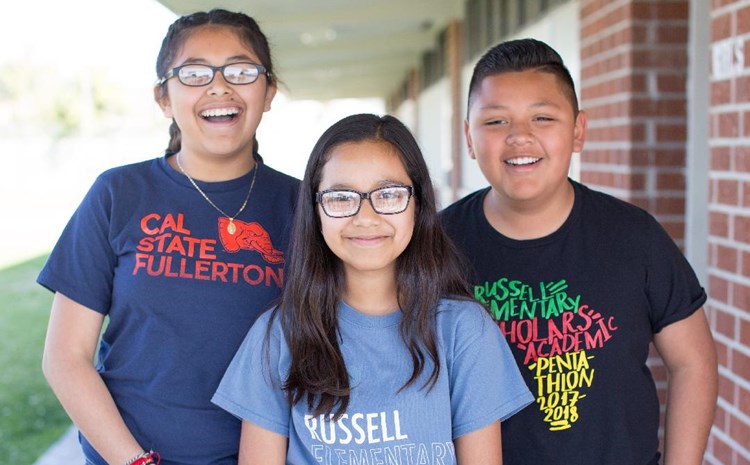 GGUSD Set to Launch New Spanish Dual Language Academy
GGUSD Set to Launch New Spanish Dual Language Academy
Garden Grove Unified School District (GGUSD) is set to launch the Russell Elementary Language Academy beginning in 2018-2019.  The new Spanish Dual Language Academy is the second of its kind in GGUSD and will meet a growing demand to provide students with a pathway to learn, read and write in both English and Spanish. 
All students who enroll in transitional kindergarten and kindergarten will be placed in the biliteracy program where they will learn academic content such as science, social studies, literacy, and math, in English and Spanish. Students enrolled in the program will also have opportunities to earn the Pathway to Biliteracy Award which is awarded by the Orange County Department of Education.
"We are so proud to open our district's second Spanish Dual Language Academy to give students at Russell Elementary School the advantage of becoming biliterate and bilingual at a young age," said Bob Harden, GGUSD Board of Education president.  "Our district is committed to expanding our language programs to help prepare students for a global society."
Students in biliteracy programs develop high levels of self-esteem which leads to high academic-competence and motivation, while also preparing them for the global job market.  The district opened Monroe Elementary Language Academy in 2016 and today the school serves more than 275 transitional kindergarten, kindergarten, first, and second grade students. 
                "Our Spanish Dual Language Academy at Monroe has had a waiting list since it opened and parents sing praises about the school and the education it provides to students," said Teri Rocco, GGUSD Board of Education trustee.  "It is so exciting that we can now offer that same dual language opportunity to students at Russell."  
In addition to the biliteracy program, Russell Elementary School provides students with amazing support and great experiences inside and outside of the classroom with free after-school tutoring, Boys & Girls Club, a robust college mentor program, Latinos Unidos student leadership club, and an early start to college preparedness through the district's nationally recognized AVID college readiness program.
Interested parents should contact the district's Office of English Learner Programs at (714) 663-6143 for more information. 
###
El GGUSD está a punto de inaugurar una nueva
Academia en Dos Idiomas, en inglés y español
El Distrito Escolar Unificado de Garden Grove (GGUSD), está a punto de inaugurar la Academia en Dos Idiomas de la Escuela Primaria Russell, en inglés y español, al inicio del año escolar 2018-2019.  La nueva Academia en Dos Idiomas es la segunda en su género en el GGUSD, y ayudará a satisfacer la creciente demanda de estudiantes, a quienes se les proporcionará un camino para aprender a leer y escribir en ambos idiomas, en inglés y español. 
Todos los estudiantes que se inscriben en el Kínder de Transición y el kínder regular serán asignados al programa de alfabetización bilingüe, en el que aprenderán acerca del contenido académico en las materias tales como las Ciencias, Estudios Sociales, Alfabetización y Matemáticas, en inglés y español. Los estudiantes que estén inscritos en el programa también tendrán oportunidades para obtener el Premio del Camino hacia la Alfabetización Bilingüe, el cual es otorgado por el Departamento de Educación del Condado de Orange.
"Estamos muy orgullosos de la apertura de nuestra segunda Academia en Dos Idiomas, en inglés y español de nuestro Distrito, para brindarles a los estudiantes de la Escuela Primaria Russell la ventaja de llegar a ser alfabetizados en dos idiomas y bilingües a una temprana edad", dijo Bob Harden, presidente de la Mesa Directiva de Educación del GGUSD.  "Nuestro Distrito se compromete a expandir nuestros programas de idiomas para ayudar a que nuestros estudiantes estén preparados para una sociedad global".
Los estudiantes que están inscritos en programas de alfabetización bilingüe desarrollan altos niveles de autoestima, que los lleva a alcanzar altos niveles de motivación y competencia académica, y al mismo tiempo los prepara para el mercado laboral global. El Distrito abrió la Academia de Idiomas en la Escuela Primaria Monroe en el año 2016, y hoy en día brinda sus servicios a más de 275 estudiantes en el Kínder de Transición, kínder regular, primero y segundo grado. 
                "Nuestra Academia de Idiomas en inglés y español de la Escuela Primaria Monroe ha tenido una lista de estudiantes en espera para poder inscribirse desde que ésta fue inaugurada, y los padres de familia expresan sus elogios acerca de la escuela y la educación que les proporciona a los estudiantes", dijo Teri Rocco, representante de la Mesa Directiva de Educación del GGUSD.  "Es muy emocionante ver que ahora también podemos ofrecer la misma oportunidad de aprendizaje en dos idiomas a los estudiantes de la Escuela Primaria Russell".
Además del programa de alfabetización bilingüe, la Escuela Primaria Russell les proporciona a los estudiantes un increíble apoyo y maravillosas experiencias, tanto dentro como fuera del salón de clases con servicios de tutoría gratuitos después de las clases regulares, Boys & Girls Club, un programa sólido de mentores universitarios, el club de liderazgo estudiantil de Latinos Unidos, y el inicio de una preparación temprana para entrar al colegio o la Universidad por medio del programa electivo AVID del Distrito, para la preparación universitaria, el cual es reconocido a nivel nacional. 
Los padres de familia que estén interesados y deseen obtener más información al respecto, pueden llamar a la Oficina de Programas para Estudiantes de Inglés del Distrito Escolar al teléfono:
(714) 663-6143.